iSeries Laser Checks


inFORM Decisions has been recognized worldwide for their developments and implementations of secure, reliable and seamless MICR checkwriting systems which allow users to bring, in-house, laser check printing operations. MICR laser check integration undoubtedly saves significant dollars in paper costs, labor, storage, obsolescence, waste, etc. But MICR integration will also increase laser check printing security i.e. blank check paper laying around versus completely printed checks, just one example.

inFORM Decisions's iChecks™ software gives users with appropriate passwords the ability to add and modify bank account information, design check templates, add signatures and logos, and start the "engine" process which runs in the background processing check runs - with no changes to your existing AS/400(iSeries) applications or check printing operations. In addition, inFORM Decisions can talk to you about optionally "MICRizing" existing laser printers or new lasers on the market, and offer tools to convert existing HP, Lexmark, IBM, Xerox and others into secure, reliable laser MICR printers.

inFORM Decisions's clientele lend credibility and testimony to their industry recognized MICR systems. Clients like Chase Manhattan Bank, Smith Kline Beecham, KOA, Western Exterminator, McCarthy Construction and hundreds more utilize inFORM Decisions's MICR laser software systems and components.

TECHNICAL OVERVIEW

Based on the fact that MICR Laser checkwriting applications are inherently different, iChecks™ offers a seamless, secure and flexible laser check printing system which eliminates the costs of expensive and cumbersome preprinted check environments while eliminating redundancies associated with classical laser check printing solutions.

Why seamless, secure and user-friendly?

From your existing accounting application, print data (Spool file) is sent to the appropriate MICR laser printer outque - unmodified. The inFORM Decisions's iChecks™ software program captures and reads system spool file data and modifies output as per user instructions and data mapping designated. Mapping the variable check data is easily accomplished using inFORM Decisions' "drag and drop" spool data mapping operations. Once bank information is defined, future editing of bank information and instructions is easily accomplished via intuitive pull-down menu prompts.

Bank processing logic is handled automatically by iChecks™ as it picks up the appropriate bank file containing bank name, address, transit & routing information. Bank information will be keyed to the editable customer/client account master file.

If multiple bank accounts are utilized with logos or signatures, then these elements can be easily added to the Bank File Maintenance Menu. In addition signatures and logos can be conditionally called based on information in the spool file. For example, if check amount is over $50,000.00 then you can set the condition to NOT print the signature automatically.

MODULAR, REMOVABLE SECURITY

The MICR font can be executed from one of inFORM Decisions's optional modular, removable, printer resident "flash" security devices, like Check-Secure. These IC-Cards ("keys") can be programmed and removed by a security officer with the sensitive MICR line and Check data.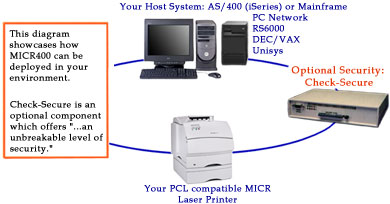 With inFORM Decisions's state-of-the-art auto-check conversion software (iDocs™), check forms can be auto-designed and positioned on the page to encapsulate the data mapped in the spool data mapping operations and according to check layout requirements.

Once check templates and data had been mapped to the check, simply start the inFORM Decisions' "engine" to monitor the Output Queue to pick up the appropriate A/P, Payroll or other check Spool files, embed the user defined commands and calls, and send the completed output to the defined MICR laser printer - in one pass!

inFORM Decisions's approach integrates a seamless process to existing applications on the AS/400. Users can print checks the same way without re-learning or executing cumbersome additional steps which offer useless features. No cumbersome downloads of data to a PC, which expose controlled and secure data to unwelcome access by bad guys! No involved installation or setup, and the complete ability to modify or add bank information as needed. The objective with iChecks™ is to print checks from your AS/400(iSeries) simply and securely without re-training users, adding costly unneeded features, or requiring costly "special" MICR Laser printers.

Again one of the "keys" to inFORM Decisions's Security in the iChecks™ solution is the optional, removable IC-Modules (keys to lock and unlock the MICR system) to offload MICR sensitive data. inFORM Decisions offers various removable "flash" printer resident storage devices for this security and performance enhancement.

With inFORM Decisions's iChecks™ security software system, MICR toner, and blank check security paper in the laser printer, authorized users can simply, securely and seamlessly send check runs to the designated MICR laser printer. iChecks™ will automatically merge the check template with the data, the MICR line and any required signatures and/or logos in one pass through the laser.



System Requirements:
AS/400(iSeries) with OS/400, RISC v3r7m0 and higher.








To contact a sales representative please give us a call
(800) 858-5544





For More Info, Send Us An Email: